High Performing Teams

Unique program designed to transform established teams into High-Performing Teams.
Download our FREE E-Book
Support your teams to advance their performance permanently
Are your teams reaching their goals effectively and efficiently? Are they aligned amongst one another and stay formed when times get tough? Do they keep each other accountable and practice emotional intelligence?
Although many organisations are now harnessing the power of teams to advance performance, there is still a big gap between a formed team, and a performing team.
60% of teams fail. A key reason is lack of development.
Our high performing team program moves formed teams through to high performing teams by embedding key team principles and processes for success. This program creates clarity and alignment, stronger team relationships and improved team effectiveness.
This program is part of the High-Impact Integrated Teams Pathway
Program Overview
Ideal for:
Newly formed teams
Teams stuck in storming, unable to normalise team process and principles
Start-up project, multi-functional teams looking to perform quickly
Intact workplace team with little development
Tools utilised:
DiSC behaviour analysis
Modal Team Analysis
Others as required
Key concepts:
Leader approach and responsibilities (less hero – more facilitator/coach)
Team principles and processes for success
Emotional intelligence – individual and collective
Team member self-awareness and best-self approach
Building team relationships – 5 principles
Having important team conversations
Commitment and accountability
Setting team purpose and goals
Workplace systems-processes that support implementation:
Team charter
Team meetings process
Information sharing and communicating
Team psychological safety
Generating ideas and continuous improvement
How we do it:
Foundations, fronting and function.
The three ingredients in an effective team-development approach.
The learning and progression through these phases often require multiple sessions with reinforcement, coaching, and definitely testing and application back in the workplace.
Through improved team Emotional Intelligence (EQ), team alignment and integration of activities, organisations have the opportunity to build true, high- performing teams that can not only deliver their individual goals flawlessly from within their silo but can integrate effectively with other teams to collectively value- add in their endeavours to achieving organisational goals.
Foundations
The first phase we describe as the foundations which includes the leader's leadership approach, team principles of behaviour and team processes.
Fronting
The second phase involves developing team members Emotional Intelligence to have them fronting as their 'best-self'.
Function
Lastly, the members synergise their efforts, capitalising on their strengths to function as a high performing team delivering agreed goals.
High-Performing Teams
Program Outcomes
On completion of this program, your team(s) moves from a formed team through to a high-performing team by implementing all the MODAL high-performing team principles.
Outcomes include:
Clarity and alignment of team purpose and goals
Formal team charter (inc. Leader and member responsibilities)
Stronger team relationships based on mutual trust
Improved team effectiveness of problem-solving and decision making
Improved cohesion and constructive norms and behaviours
Effective delivery of outcomes and team goals
MODAL's high performing team model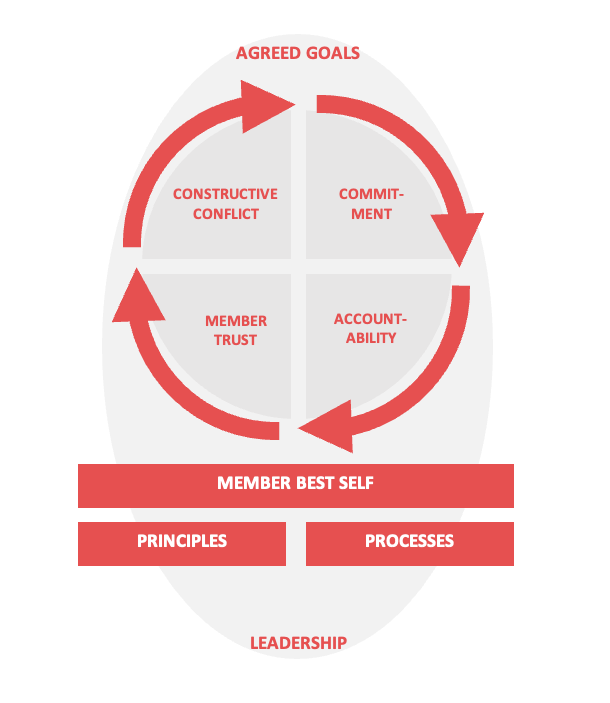 Why MODAL?
MODAL has worked on team alignment and culture for decades, partnering with organisations such as BHP Billiton, Rio Tinto, Western Power and Ramsay Healthcare to develop leaders and strengthen culture since 1993. Our approach to developing stronger and more aligned teams includes:
A true partnering approach to design and deliver best practice content and process
Tried and tested techniques and program structure that leads to ongoing results
A systematic approach to development with multiple learning opportunities over time to help translate learning into real behaviour change in the workplace
Generating a positive Return on Investment through workplace improvement projects
Producing real, sustainable behavioural change through high impact action leaning and a 70:20:10 development philosophy
Learn About Us
"MODAL strives to create sustainable change using best practice models and works with you to achieve your outcomes. [They are] very personable and give you time, very supportive"
Hear what some of our clients have to say about their journey with us:
"MODAL has assisted me in BHP Billiton and Western Power with remarkable results. They work exceptionally well with Executive Teams driving them to become high performing and delivering shareholder value and lifting employee satisfaction. The MODAL Team have the ability to work with people at all levels in an organisation. I would recommend MODAL to anyone looking to improve the culture of an organisation."

Stewart

BGC Contracting
"I felt absolutely confident that we would deliver a great program with Ed at the helm. His ability to relate to and read the participants was a key to our success as was his knowledge and ability to think on his feet when needed. Thanks Ed and Modal!"

Kata

Clough
"Our organisation has been focused on developing a "one team" culture and have seen real value in partnering with MODAL on this, especially with the work they have done with the Executive Team as we move towards High Performance.
What I have liked about their approach has been the ability to engage all members of the Executive team. In doing so the trust, cooperation and performance of the team has grown rapidly."

Mark

City of Mandurah
"We've been really pleased with our experience with MODAL - their consultants are highly capable professionals who seek to understand their client's needs then design and facilitate the process required to successfully meet those needs."

Shane

ERGT
"They are a great company to work with, Scott is an excellent facilitator and they deliver on what they say they are going to do and they are prepared to go above and beyond."

Paul

Campbelltown City Council
"The Modal team are genuine, practical and highly skilled coaches and facilitators with a unique ability to enable thought leadership from executive to line manager level in a practical and cost effective way. I look forward to a long association with Modal and would recommend them highly to organisations with a commitment to building their business through their leadership teams and people programs."

Steve

Landcorp
"The way they have integrated themselves, working from the bottom up with employees by facilitating targeted staff development sessions to top down working with the Executive and leadership teams through building capability in learning groups sessions, individual one-on-one coaching has proven successful in assisting RWWA exceed its objectives over the last five years."

Richard

Racing & Wagering WA
"I'd personally recommend Neil and MODAL as proven facilitators of culture, leadership and team development. I have worked with MODAL for over 4 years in developing our One Team One Direction culture at Joondalup Health Campus. MODAL's approach is to clearly understand the customer's needs, provide feedback on the impact of leadership and believes in the need for authentic leadership to bring about sustainable change."

Kempton

Joondalup Health Campus, Ramsay Health Care
Contact us t book this program today
Talk with us to book this program in for your organisation